Australian Employment Market Update
Released 21.07.17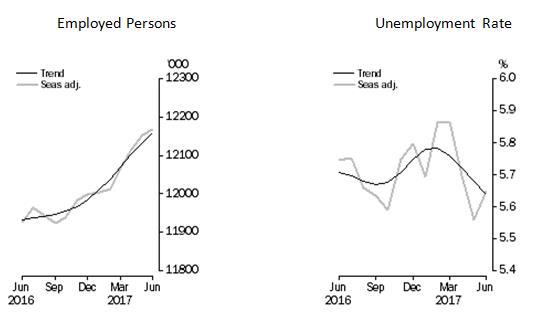 Unemployment rate remained steady at 5.6%
The ABS reported 14,000 more jobs were filled than last month (seasonally adjusted). This increase in permanent full time employment (62,000 more) was partially offset by a decrease in part-time employment (48,000 less). In the past 12 months, fulltime employment has increased by 175,400 and part-time employment by 64,800.
We were more productive in June compared to the month before, by the tune of an extra 8.9 million hours worked.
The seasonally adjusted unemployment rate increased by less than 0.1 percentage points and remained at 5.6 per cent in June 2017.
The largest seasonally adjusted increase in employment was in WA, up 6,900 persons; followed by South Australia. The largest decreased was in Victoria.
457 visa abolition forces employers to poach and train more
According to a recent Survey of business owners by the Victorian Chamber of Commerce, the abolition of the 457 visa program will force employers to poach workers from other companies and/or invest more in training. The survey has found that has found less than 10 per cent of employers are now turning to skilled migration visas as a means of hiring qualified workers.
It comes after the Federal Government in April announced plans to abolish the controversial 457 program.
Visa 457 enabled businesses to hire foreign workers where they could not find a suitably qualified Australian. However, there were widespread concerns employers were using the program principally to cut their wage costs.
Under the replacement Temporary Skill Shortage scheme, which takes effect from next March, there will be tighter rules around occupations, experience, the ability of job candidates to speak English, training, age and the location of the work.
The Victorian Chamber of Commerce and Industry has now polled 323 businesses to measure how they are coping with skills gaps, with the results to be released tomorrow.
They reveal 35 per cent are struggling to hire skilled Australian workers, while 64 per cent say they have no such problem.
Just 9 per cent of businesses say they are turning to skilled migration visas to find qualified workers.
Among businesses trying to fill skill voids, 26 per cent plan to poach staff from competitors and 34 per cent expect to invest in training for existing staff.
The construction industry is the sector facing the biggest challenge recruiting skilled workers.
It is followed by the business services, education, health and community services sectors.
The bigger picture – a global & Australian Economic Perspective
NAB business surveys and the monthly updates on industrial output and world trade show expansion continuing at a moderate pace. The global economic upturn continues, despite some disappointing output data from the big advanced economies in early 2017. Inflation remains below central bank targets in several key advanced economies and price pressures coming through the pipeline from commodities and manufacturing are waning. Despite ongoing low inflation, the growing evidence that advanced economy growth is being consolidated at a reasonable rate and the passing of earlier fears of price deflation is causing a policy rethink among several central banks. They seem to be reconsidering the need for such low interest rates and such extensive asset buying. We expect global growth to pick-up from the near 3% rate reached in 2016 to 3¼% this year and 3½% in 2018.
In Australia, revisions to real GDP growth forecasts this month largely reflect a stronger than expected rebound in coal exports following disruptions from Cyclone Debbie in Q1. We still expect lacklustre growth in household consumption, and a moderate cyclical upturn in non-mining investment, while government investment will help to fill some of the void left by mining investment. Growth is forecast to rise from 2¼% in 2017 to around 2¾% in 2018 and 2019, however, this masks some of the volatility in the profile. The second half of 2017 will see real GDP growth further bolstered by a ramp up in LNG exports, but momentum will fade by end-2018 as LNG peaks and dwelling construction drags.