How to deal with contractors who overstate their hours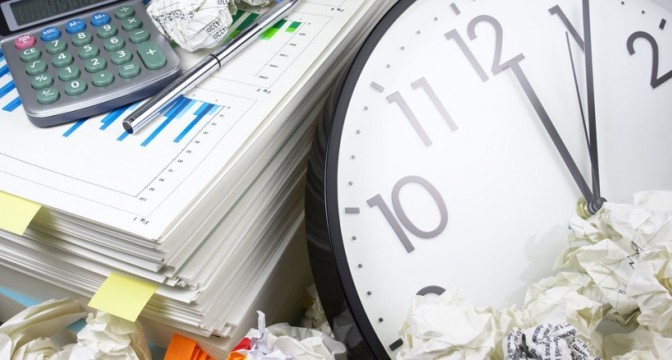 Whether you're dealing with a contractor who can't remember the hours they have worked, a blatant liar that overstates their hours, or an unfocussed procrastinator that takes excessive breaks during work, correcting the hours of a skilled contractor that holds the keys to your projects success is one of the most complex situations to navigate.
If your hired your own tradesperson or a cleaner and they treated you this way, you'd probably bid them farewell in a flash. But the effort it took to locate, hire and train your company's contractor and your sense of obligation to complete the project swiftly means that you often feel torn about what to do.
We surveyed over 700 people for some pointers about dealing with contractors that overstate the amount of hours they worked.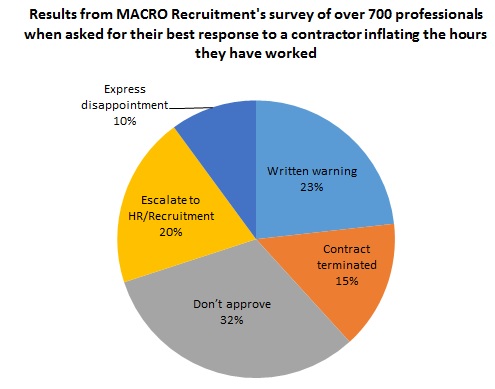 The initial "conversation"
Most people surveyed felt an initial verbal conversation with the manager sends a message that their hours are being checked without overly demotivating the contractor.
The "conversation" incudes why they believed hours were being overstated, asks for the contractor's reasons and at the same time clears up any misunderstandings on what is billable hours.
HR Managers still recommended sending an email to worker confirming the findings of the meeting.
In this way it records the fact they were verbally warned.
Experienced managers felt that after the conversation it may be prudent to work with the Accounts Department to locate and implement an improved reporting management systems so as to prevent misuse of the time-sheet system.
"23% of surveyed people voted for; one verbal warning –  one written warning – then terminate the contract."
This warning some felt should require the contractor to sign off on the warning so that the seriousness of the breach is made clear. The majority of those surveyed wanted the warning to include an outline of the consequences of the next breach.
Most felt a one strike rule for written warning was appropriate for best practice project management, while the remainder thought a three strike rule was good for legal reasons.
Everyone agreed that the written warning needed to involve the HR Department.
"one verbal warning is enough."
One in five people surveyed felt that if a contractor exaggerated their timesheet after a verbal warning then immediate termination is the only course of action.
They felt that in business trust is everything. "If a contractor can't be trusted it is best for all parties that the contract is terminated and a new contractor is appointed to carry out the remaining works".
"Fool me once, shame on you. Fool me twice, shame on me."
Many felt that it reflects poorly on the company doing business with dishonest people. They believed that any other course of action might create a culture within the contractor community to overstate hours.
"We need people who are disciplined and follow the set process, if we give chances and start breaking the own set guidelines it might become practice for others contractors to follow and spoil the work culture."
Exaggerating timesheets to them is seen as theft or fraud. They felt the contractor was given more than ample consideration with the verbal warning, a second offence means that they won't ever change.
Interestingly, it was mostly co-workers that called for an immediate dismissal after a verbal warning had been given.
"Although I'm sympathetic to people's work/life conditions this person was effectively stealing and that's not somebody I'd trust or want to work with"
Managers were worried about how the project would proceed if the contractor was hard to replace and HR was more worried about unlawful dismissal cases.

"Withholding pay is a great motivator."
Almost one on four people surveyed (32%) believed that the best course of action was not to bother with further warnings and just not sign the timesheet.
This works well with organisations that require a supervisor's signature. Those that used a timecard found this method difficult.
Those that choose this option felt that "You're in a position to withhold those hours and give the contractor the opportunity to retract the incorrect hours. If they choose not to retract then that is when you take it higher up the chain to be resolved. "
Some felt by signing off on incorrect timesheet that their own credibility as a manager was at stake. It was accepted that the Manager is responsible for any timesheet discrepancies and is expected to govern compliance to company procedure and employer standards.
There was a fear that the company may perform an audit and the manager could lose their job for approving false declaration of a time sheet.
In general, the "best practice" that these surveyed people decided on was:
1.       don't sign the timesheet,
2.       discuss with the contractor as to why,
3.       if not satisfied with their reason express your disappointment to HR/agency.
4.       Continue not to sign suspect timesheets.
Most importantly, the consensus was that It's better to deal with the issue when it first occurs.
"This ensures the contractor is aware you are monitoring performance and governance is in place from the outset and will not allow a pattern to occur."
"HR are the best people to deal with employment issues."
20% of people surveyed felt that escalating immediately to either HR or the recruitment agency was needed.
In the most part these responders felt that escalate to HR or their recruitment agency to resolve was the right choice as the legal parameters may be better understood by someone in that field.
Many felt that matter should be escalated to determine what the actual problem is, and that it may be a problem that is not appropriate for the manager to this discuss with them.
Others saw it as the responsibility of the reporting manager to verify timesheets. "If there are any mistakes they should inform employee to correct before approving and only escalate to HR if timesheets are consistently being overstated."
Some other options raised included:
Sending a company representative to the work location. Tell him to watch the clock and note the timings, then advise the contractor if discrepancies appear.
Ask the contractor to give an itemized breakdown of the hours and what was done and why. This will put everything into perspective for both parties. Any errors can be picked up by the contractor.
Avoid direct confrontation.
Review again the contract and redo if needed to put measures in protecting the company's interest when discrepancy occurred.
Seek to have a notice of demand sent out setting out the breach of the contract and to have the monies reimbursed or to be offset in the next time sheet submitted.
What are your thoughts?