Staff turnover rates by industry
Jobseeker survey Shatters Stereotypes
Hundreds of Australian job seekers recently rated their industries staff turnover rate with surprising results.
Over 900 local job seekers were asked how long they have been in their current job and why they are looking for their next.
The Mining industry was rated the most stable, with the average tenure being nine years. The most popular reasons for looking afield were career growth, contract ended and personal circumstances.
Next was trades and services (7 years), Accounting (6 years), Education (5.5 years) and Sales (5 years).
HAVE YOUR SAY: Did the survey get it right? Tell us below

Of the 20 industries rated, Manufacturing (2 years) and Hospitality (2 years) had the most transient workforce, closely followed by Retail (2.5 years) and surprisingly Aviation (3 years).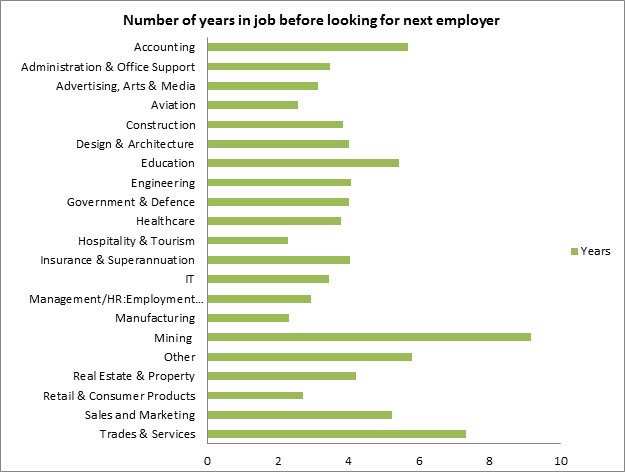 The average tenure before wanting to look afield was 4.5 years.
MACRO Recruitment managing director Daryl Keely believes that the mining boom set many workers into regional areas were companies with big budgets and projects did all they could do to keep their staff.
"Typically Industries with lower skills needed for entry and therefore lower pay packets meant that employers where continually being gazumped by offers of slightly higher pay, career growth and closer to home options."
"Once the larger government infrastructure projects are released we can expect tenure to increase in the construction and defence industries Mr Keeley said.